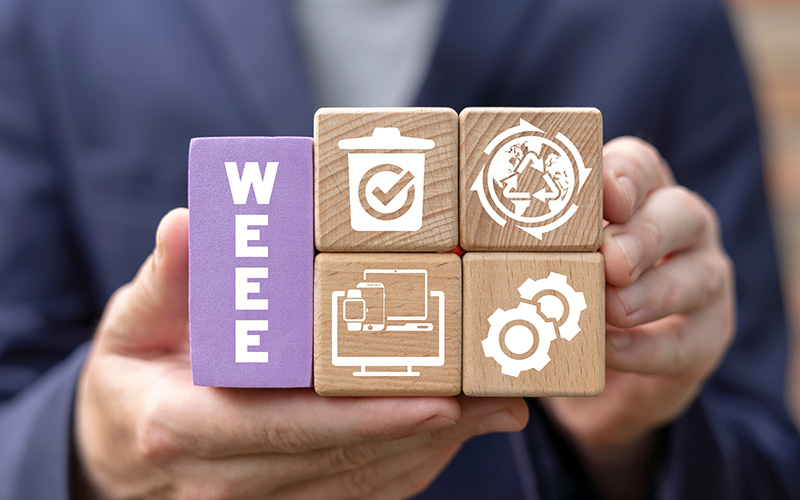 When it comes to the disposal of electronic waste that has reached the end of its useful life, also known as WEEE (Waste Electrical and Electronic Equipment), there are specific rules and regulations that must be followed.
All electrical waste is harmful to the environment as it contains dangerous chemicals. Our old computers, televisions, refrigerators, mobile phones, and other basic household appliances when dumped in landfills take many decades to decay, while leaking poisonous toxins into the earth, and our waste systems.
TV screens and computer screens for example contain metal parts that if not handled properly can be particularly dangerous to the environment. Fridges must also be disposed of correctly as they need to be degassed to ensure the CFC gases and fluorescent strips are carefully handled and dealt with safely.
Thankfully many of components used in the manufacturing of electrical and electronic goods can now be treated, recycled or recovered for re-use so taking time to read disposal guidelines is crucial for individuals and businesses alike.
Here we simply explain everything WEEE-related with our top tips for disposing of household and office equipment.
Regulatory controls
Several industry bodies oversee the management and disposal of WEEE waste in the UK. These organisations ensure compliance with relevant regulations and promote environmentally friendly practices.
Key industry bodies include:
Environment Agency:

The EA is the regulatory body responsible for enforcing waste management legislation. They oversee the proper handling, storage, and disposal of WEEE waste.

Waste Electrical and Electronic Equipment Directive (WEEE Directive):

The WEEE Directive sets out the requirements for the collection, treatment, and recovery of WEEE waste in the European Union. It aims to reduce the environmental impact of electronic waste and promote recycling.
Trade Waste Licenses
Businesses that handle and dispose of WEEE waste are required to hold a valid trade waste license. This license ensures waste is managed responsibly and in compliance with environmental regulations. Before booking a local collection for WEEE waste disposal, you MUST verify the validity of the waste carrier's trade waste license. This can easily be done by checking their unique registration number on the DEFRA website.
Solowaste offers the following tips for safe WEEE waste disposal:
Separate WEEE waste: Keep WEEE separate from other types of rubbish to facilitate proper recycling and disposal. Many local councils collect small electrical items alongside regular collections but request that it is kept separate and bagged for ease of sorting. Check your local authority's website for its specific list of WEEE items and which days they collect.
Find a registered waste carrier: Ensure the carrier you engage is registered and their license is current. This ensures your waste is handled and disposed of legally and responsibly.
Packaging: Wrap up WEEE waste securely to prevent any leaks, spills, or potential harm during transportation.
Documentation: keep records of WEEE waste disposal, including collection receipts or waste transfer notes. This documentation is essential for auditing and compliance purposes.
Educate employees: Train your employees on the proper handling and disposal of WEEE waste to minimise risks and ensure compliance with regulations.
Items commonly collected by local councils along with household rubbish (separated and bagged):
Batteries
Any household battery
Lithium batteries
Mobile phone batteries
Cell / button batteries
Toys / games batteries
Smoke detector batteries
Small electrical items
Irons
Toasters
Electric toys and games
Mobile phones
Laptop computers
MP3 players
Kettles
Disposing of WEEE waste requires adherence to specific rules and regulations to protect everyone. By understanding the guidelines, checking the validity of trade waste licenses, and following the above tips, we can call all contribute to a cleaner and more sustainable future while fulfilling our obligations and caring for our beautiful planet.
If you are unsure about any aspect of WEEE disposal or would like to book a collection, please contact Solowaste's friendly team for assistance.